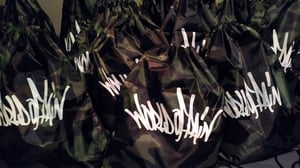 $

20.00
So after various tours and short runs, we've ended up with random leftovers of gear, all older stock/out of print. For $20, you're getting a dope WOP camo bag with any variation of:
- 2 shirts
- A shirt and a beanie, hat or CD
- A long sleeve shirt and a beanie, hat or CD
- A Crewneck/Sweatshirt
.. and any other goodies I can find to stuff in there. In other words, no matter what combo you get, it's gonna be worth more than the $20 you dropped. Again, these are all leftovers from various tours, including merch that may have only been available on overseas tours.
*** Due to the weight of the combined items, each of these will be sent via USPS Priority Mail. Thank you.